Scotty Nguyen und Tom McEvoy werden in "Poker Hall of Fame" aufgenommen
20. Oktober 2013

Created By:

Categories:

Tags:
Las Vegas – Der fünfmalige Bracelet Gewinner Scotty Nguyen und Tom McEvoy der insgesamt vier Bracelets gewinnen konnte werden als Poker-Legenden in die Poker Hall of Fame aufgenommen. Das teilte das Komitee am Samstag mit.
Die Aufnahme in die Ruhmeshalle soll am 3. November im Rahmen des WSOP 2013 Main Event Final Tables im Rio Casino in Las Vegas stattfinden.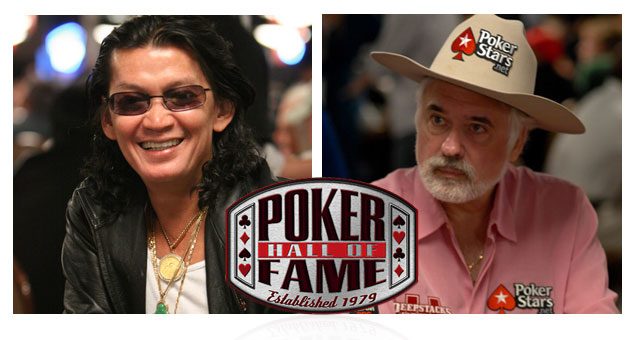 Scotty Nguyen und Tom McEvoy werden in "Poker Hall of Fame" aufgenommen
Liste der Mitglieder der Poker Hall of Fame:
1979 Nick "The Greek" Dandolos
1979 James Butler "Wild Bill Hickok"
1979 Edmond Hoyle
1979 Felton "Corky" McCorquodale
1979 Johnny Moss
1979 Red Winn
1979 Sid Wyman
1980 T "Blondie" Forbes
1981 Bill Boyd
1982 Tom Abdo
1983 Joe Bernstein
1984 Murph Harrold
1985 Red Hodges
1986 Henry Green
1987 Walter Clyde "Puggy" Pearson
1988 Doyle Brunson/Jack "Treetop" Strauss
1989 Fed "Sarge" Ferris
1990 Benny Binion
1991 David "Chip" Reese
1992 Thomas Austin "Amarillo Slim" Preston
1993 Jack Keller
1996 Julius Oral "Little Man" Popwell
1997 Roger Moore
2001 Stu "The Kid" Ungar
2002 Lyle Berman/Johnny Chan
2003 Bobby Baldwin
2004 Berry Johnson
2005 Crandall Addington/Jack Binion
2006 Billy Baxter/T.J. Cloutier
2007 Barbara Enright/Phil Hellmuth
2008 Henry Orenstein/Duane Tomko
2009 Mike Sexton
2010 Dan Harrington/Erik Seidel
2011 Barry Greenstein/Linda Johnson
2012 Eric Drache/Brian "Sailor" Roberts
2013 Scotty Nguyen/Tom McEvoy